# ChatGPT for YouTube
HARPA AI is a powerful Chrome Extension which integrates ChatGPT directly into YouTube. It can parse YouTube video transcripts, summarize, analyze them and extract key takeaways for quick navigation. This way you can save time watching long videos and get key takeaways quickly: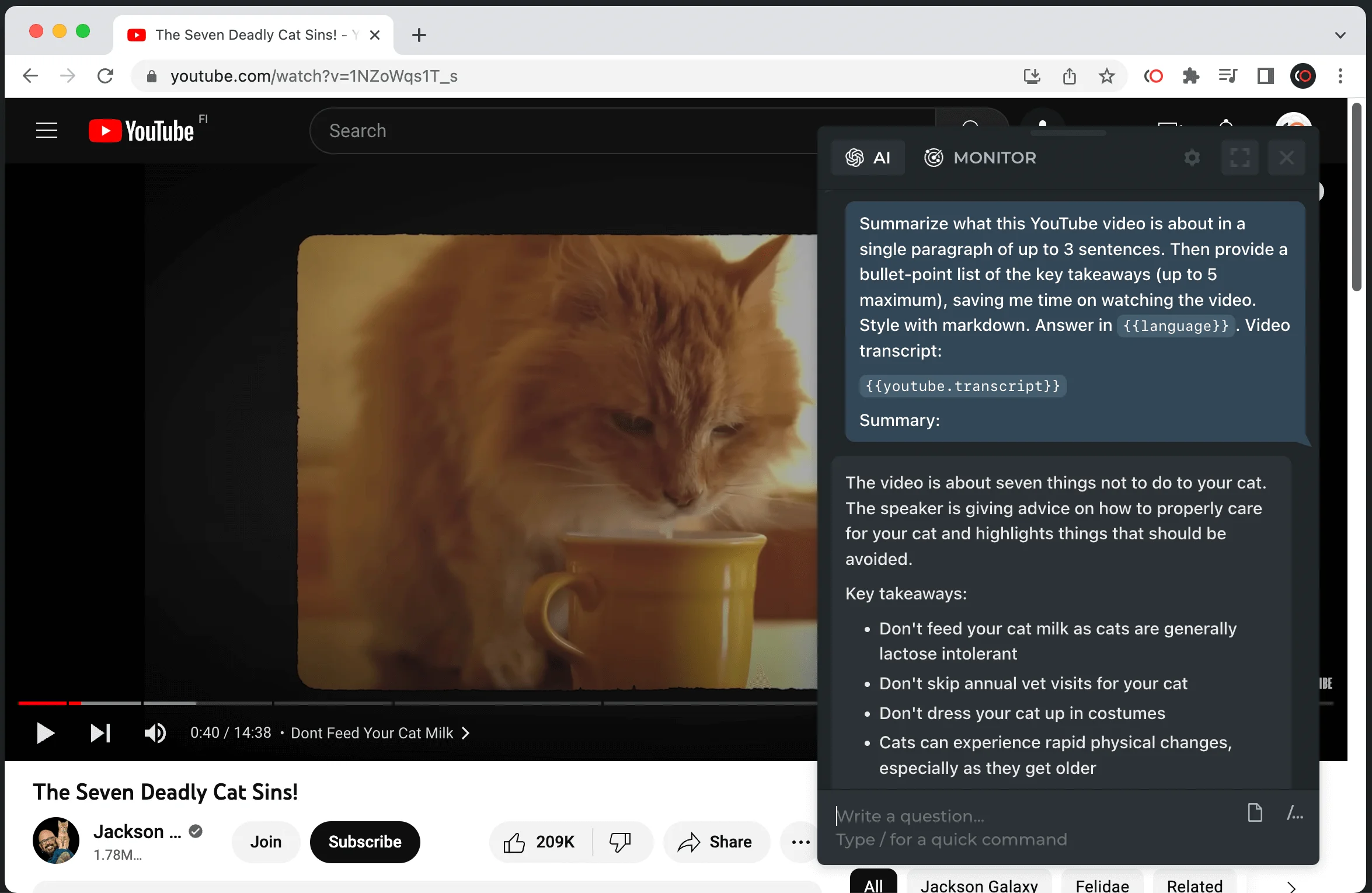 HARPA AI is at the forefront of utilizing artificial intelligence to empower your YouTube experience. With the integration of ChatGPT for YouTube, HARPA brings you a suite of transformative tools designed to enhance your interaction with YouTube videos. Let's delve into these tools and how they can revolutionize your YouTube experience:
YouTube video summary
Save time on watching YouTube videos. Break down YouTube videos into parts and get key takeaways.
USE COMMAND
Hashtag generator
Create up to 30 social media Hashtags.
USE COMMAND
Repurpose YouTube video
Convert YouTube video to text content.
USE COMMAND
Video script writer
Write a script for a video idea or topic. Best for YouTube, Instagram & TikTok.
USE COMMAND
YouTube description generator
Generate title, description and hashtags for a youtube video idea.
USE COMMAND
YouTube polls generator
Create an attention-grabbing YouTube poll for a video channel.
USE COMMAND
YouTube audience analyzer
Read transcript of a YouTube video and analyze its target audience.
USE COMMAND
YouTube Channel Analysis
Extracts insights from YouTube videos to draw conclusion on channel audience and growth tips.
USE COMMAND
YouTube Extract Transcripts
Extracts YouTube transcripts from every video on a page into a text file, parameter or a summary.
USE COMMAND
## YouTube Summaries: Extracting Key Takeaways
If you are tired of wading through lengthy YouTube videos in search of the essential insights, try HARPA AI YouTube Summaries feature. It can break down any video into parts and extract key takeaways. This invaluable tool saves you precious time and allows for quick navigation through content.
HARPA supports three types of YouTube summaries:
Nested: Nested summaries are the most detailed and provide a comprehensive overview of the video content. They are ideal for long videos and can be used to quickly navigate through the video.
Long: Long summaries extract key takeaways from the video and provide a detailed overview of the content. They are ideal for short and medium-length videos and can be used to quickly navigate through the video.
Short: Short summaries are more concise and provide a brief overview of the video content. They are ideal for longer videos and can be used to quickly navigate through the video.
You can provide a custom summary format for HARPA AI to follow.
You can also use HARPA AI to summarize YouTube videos in a variety of languages, including English, Spanish, French, German, Italian, Portuguese, Russian, and Chinese.
## Use Case Scenarios
Here is an overview of what HARPA.AI ChatGPT commands for YouTube can do for you:
Streamlining Video Script Creation. Content creation often begins with a script, especially for platforms like YouTube, Instagram, and TikTok. Our video script generation tool simplifies this process, enabling you to effortlessly generate scripts for your video ideas. Say farewell to writer's block as you streamline your content creation process.
Optimizing Social Media Reach with AI for YouTube. In an era dominated by social media, hashtags play a pivotal role in content visibility. HARPA AI's AI for YouTube can create up to 30 relevant hashtags for your content, ensuring it reaches a broader audience and garners the attention it deserves.
Transforming Videos into Text Content. Repurposing video content into written form is a strategic move. Our YouTube video to text content conversion tool seamlessly accomplishes this task, allowing you to share your content across various platforms effectively.
Effortless Content Metadata. Crafting engaging titles, descriptions, and hashtags for your YouTube videos can be a daunting task. HARPA AI simplifies this process with its YouTube description and hashtag generator. Let AI handle the metadata, guaranteeing your video gets the visibility it merits.
Engaging Your Audience with Polls. Audience engagement is pivotal on YouTube, and our YouTube polls generator empowers you to create attention-grabbing polls for your video channel. Interact with your audience, gather insights, and enhance viewer engagement.
Analyzing Your Target Audience. Understanding your audience is fundamental for content creators. HARPA AI can read the transcript of your YouTube videos and provide valuable insights about your target audience, allowing you to tailor your content effectively.
## How to Use ChatGPT with YouTube
Setting up a ChatGPT account: Navigate to the ChatGPT website and sign up for a free account.
Installing the HARPA.AI Chrome Extension: Install the free HARPA.AI Chrome Plugin from the Chrome Web Store in a few clicks.
Using HARPA AI ChatGPT commands: When HARPA is installed, navigate to the YouTube website and press Alt+A on your keyboard or click the plugin icon in the Chrome Toolbar. HARPA will launch. Type /youtube to HARPA chat to bring a list of ChatGPT prompts for YouTube.
## Connect with HARPA AI
Your feedback, suggestions, and ideas are invaluable to us. If you have any questions or insights, please don't hesitate to reach out to us. At HARPA AI, we are committed to enhancing your YouTube experience and helping you succeed.