# Overview of the Research
A survey of 3,812 digital marketers was conducted to uncover how they are utilizing artificial intelligence (AI) technologies. Respondents were asked 27 questions to get a detailed picture of this rapidly changing landscape.
# Key Survey Findings
Here is a summary of the most interesting findings and key statistics:
75.7% of marketers are currently using AI tools for work. This demonstrates how quickly AI has been adopted in the industry.
AI is being used regularly: 49.5% of marketers apply AI tools multiple times per week or more.
69% of marketers use ChatGPT, largely due to OpenAI making it widely available for free to everyone.
AI content quality is already seen as very good. 65.8% of people think AI content is equal to or better than human writing.
63% of AI adopters cite inaccuracies in AI content as a major challenge. This is widely known but hasn't deterred many from using AI.
85.1% of marketers are using AI for article writing. This is a very high percentage and shows how popular AI content creation has become in a short time.
Understanding AI is becoming extremely important for jobs. 98.1% of marketers acknowledge that some comprehension of AI is vital for their jobs.
AI is putting some jobs more at risk than others. 81.6% of marketers think content writers' jobs are endangered because of AI.
Companies are already replacing people. 32.9% of businesses have already supplanted some human tasks with AI solutions.
60% of marketers feel positive about the emergence of the AI industry. The sentiment is largely upbeat as marketers have much to gain from utilizing this technology.
Recently, many marketers were worried about losing search traffic to AI. Now only 30.1% of marketers believe AI will negatively impact search traffic in 5 years.
There is concern about service providers not disclosing the use of AI in their work. 54.9% of respondents suspect they've gotten undisclosed AI content from a service provider.
# About the Research
A 27-question survey was conducted to learn more about how digital marketers are leveraging AI technology. To reach a broad audience, the survey was promoted to a 100k email subscriber list, shared on Twitter, mentioned in a Podcast, and posted in Facebook and Discord communities. Paid ads on Facebook and Twitter were also run to boost responses.
In just 7 days, 3,812 responses were gathered – five times more than any other survey conducted. No surprise there, given the current surge in AI interest.
Just over 50% of respondents were website owners, while freelancers made up one-fifth. The rest were an almost even mix of agencies, in-house employees, and other marketers.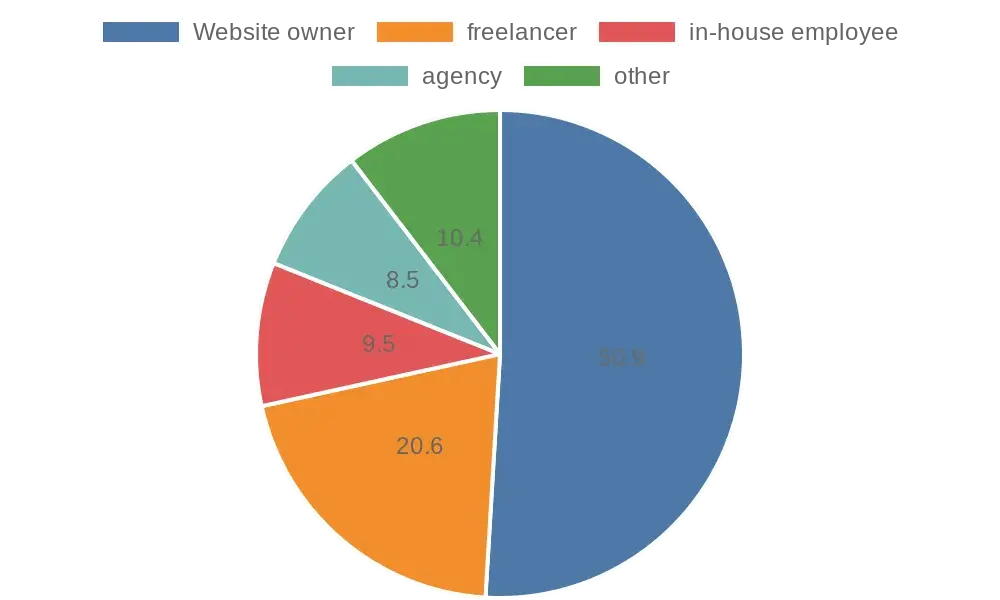 The chart was created using the HARPA AI /chart command.
Since Authority Hacker's content caters to website owners, it's logical that half the survey participants fall into this category.
The geographic distribution of participants was also tracked, finding impressive representation from 134 countries. These were categorized by region. North America, Europe, and Asia made up the majority.
# AI Usage by Marketers
The research found that 75.7% of online marketers already utilize AI tools in their daily work. This shows how quickly AI has been adopted in the industry.
49.5% of marketers apply AI tools multiple times per week or more. It seems we've moved from early adopters just testing it out to an era where AI is becoming a core part of work for many professionals.
# Reasons Against Using AI
The survey uncovered the main reasons 21.1% haven't adopted AI yet:
Lack of knowledge - a barrier for 45.2% of respondents. ChatGPT's learning curve is very small.
Lack of time - ironic given AI's time-saving abilities.
Concerns about accuracy of AI data or content - an issue for 13.9%. Valid concerns since AI often makes up facts.
The research found:
69% of marketers use ChatGPT - the most popular tool. Likely due to the free basic account and affordable paid options.
For image generation, Midjourney (54.4%) and DALL-E-2 (33.7%) lead.
Although ChatGPT and DALL-E are owned by OpenAI, this company doesn't yet dominate image generation.
# Using AI for Content Creation
The study revealed AI is primarily used for content creation:
85.1% of AI users apply it for article and blog writing.
47.8% use it for copywriting.
37.5% apply AI for keywords.
It was also found 65.8% of professionals consider AI content equal or better quality than human-written. However, 63% cite bias and inaccuracy as a major issue.
# AI's Impact on Marketer's Jobs
The research showed understanding AI is quickly becoming important for marketers:
98.1% believe some comprehension of AI is vital for their jobs.
90% are confident in their ability to learn and adapt to new AI tools.
But there are also concerns about AI's impact on jobs:
81.6% think content writers' roles are endangered by AI.
Over half of marketers are worried about being replaced by AI at work.
32.9% of companies have already supplanted some human tasks with AI.
Overall though, sentiment about the AI industry's growth is positive:
60% view the rise of AI positively.
Under 20% believe AI will negatively impact content quality.
Only 30.1% think AI will negatively affect search traffic in the next 5 years.
# AI Usage Transparency
The study revealed concerns around transparency of AI use:
54.9% suspect they've received undisclosed AI content from vendors.
59.5% oppose mandatory AI content disclosures.
Yet 37.4% of marketers already use AI detection tools, many unreliable.
In summary, the research showed AI is already actively used in digital marketing and exerting considerable influence on the field. However, many open questions remain around transparency of use and impact on jobs.
# Analysis of other sources:
The findings from various studies and surveys have highlighted the features listed below regarding the use of AI in different areas of human life: